Forever Home: A Dog and Boy Love Story (Hardcover)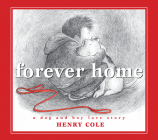 Description
---
A heart-tugging story about an abandoned dog who is looking for a forever home -- and a boy who finds him!
A Kirkus 2022 Best Picture Books of the Year
★ "An exquisitely rendered, touching story of companionship and belonging." – Kirkus Reviews, starred review
★ "This sweet and touching story will prove a worthy addition to any collection." – School Library Journal, starred review
There is a dog that no one wants. Abandoned and afraid, he must use his wits to survive the city's streets. Sadly, no one comes for him.
Meanwhile, not far away, there is a boy who wants a dog more than anything in the world. But his room is a mess. He needs to help more around the house. And his parents tell him he must learn to be more responsible. Little does the boy know, there is a dog nearby longing for a forever home and someone to love him. And that dog has his eye on our boy!
Henry Cole masterfully weaves together two tender storylines that result in a hearttugging wordless picture book that celebrates love, kindness, and compassion for animals.
About the Author
---
Henry Cole was an adored elementary school science teacher for sixteen years. He has since illustrated over 150 popular books (some of which he has also authored), including his wordless, award-winning picture books: Unspoken: A Story from the Underground Railroad, which was named a New York Times Best Illustrated Children's Book; One Little Bag: An Amazing Journey, which was named an ALA Notable Children's Book; and Forever Home: A Dog and Boy Love Story, which received two starred reviews. He lives in Florida. To find out more about Henry, go to henrycole.net.
Praise For…
---
Praise for Forever Home:
A Kirkus 2022 Best Picture Books of the Year
★ "In this wordless tale, a lonely dog and a child yearning for a pet find solace and purpose together. Alone on a stoop, an abandoned dog sits in front of a locked door and a nearby "for sale" sign. The dog sadly roams the neighborhood, searching for a new home. Meanwhile, a child pesters their parents with pleas for a dog... The pair are joyfully reunited at the dog shelter, embarking on new adventures and grateful to be together. Cole excels at creating expressive background characters and realistic details with precise ink crosshatches and linework that rewards closer inspection. The child is light-skinned with spiky black hair. One parent is light-skinned; the other is dark-skinned." -- Kirkus Reviews, starred review
★ "In this poignant wordless book, a young boy eager to prove his responsibility as a dog owner begins dragging an empty leash wherever he goes. . . .The delicate hatching of Cole's ink drawings (black and white, except for the bright red of the dog's leash and collar) engenders a subtle air of grayscale nostalgia, not old-fashioned as much as quietly comforting. . . . This sweet and touching story will prove a worthy addition to any collection." -- School Library Journal, starred review
Praise for One Little Bag: An Amazing Journey:
★ "The skilled black-ink drawings lend a look of pleasant harmony to all the characters that populate the pages, from woodland creatures to humans of various ages and gender and racial presentations. Meticulous attention to composition, textures, and period detail -- starting around the 1960s -- makes each page a delight... Because there are no words, children are left to draw their own conclusions... Beautifully effective as both nostalgia trip and lesson in conservation." -- Kirkus Reviews, starred review
★ "[The story's] message is deeply profound... Nostalgia and love abound... bringing tears to the eyes of readers of all ages with each detailed image... [A] compelling and emotionally resonant addition to Earth Day curricula, especially as an inspiration for reusing items as long as possible." -- School Library Journal, starred review
★ "By elevating the life of an ephemeral object to the time scale of love across generations, Cole nudges readers to take a second look at the things they throw away. An author's note describes how Earth Day prodded Cole to reuse the same paper lunch bag for years." -- Publishers Weekly, starred review
"From the title on, silence and secrets create stirring drama in this wordless picture book... children will be moved to return to the images many times and fill in their own words." -- Booklist
Praise for Unspoken: A Story from the Underground Railroad:
A New York Times Best Illustrated Book
"Designed to present youngsters with a moral choice… the author, a former teacher, clearly intended Unspoken to be a challenging book, its somber sepia tone drawings establish a mood of foreboding." -- The New York Times Book Review
★ "Moving and emotionally charged." -- Kirkus Reviews, starred review
★ "Gorgeously rendered in soft dark pencils, this wordless book is reminiscent of the naturalistic pencil artistry of Maurice Sendak and Brian Selznick." -- School Library Journal, starred review
★ "Cole conjures significant tension and emotional heft in this powerful tale of quiet camaraderie and courage." -- Publishers Weekly, starred review
"What Cole shows so superbly through his accomplished yet unpretentious pencil art is the keeping of secrets. The entire family appears to know what's going on, but the extent of each character's involvement is never made explicit." -- The Horn Book